Hi!!
I'm Slurpee, and this is my first attempt at a Webpage.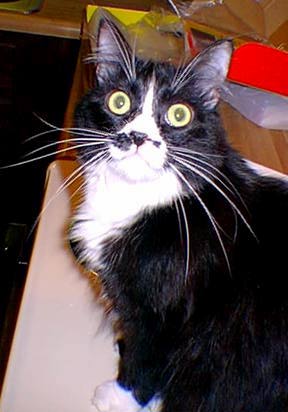 I'm not too computer-literate yet, so my mom is helping me with the page.
You may wonder why a cat as cute as myself has a silly name like Slurpee. It's for two reasons: Mommy found me at a 7-11 store where I was hanging around and being abused by some horrible teenagers, and "Slurpee" was a better name than "Big Gulp"! Also, I love to bathe myself, my humans, and sometimes my brother, LD the dog, if he needs it (and he usually does). Daddy says I'm "the licking-est cat" he's ever seen! Until I hear differently, I'll consider that a compliment.

I'll be adding many features to my page in the coming weeks. I plan to have lots of links to sites of interest to cat "owners" (AS IF humans could really OWN cats--Hahaha!) and people who just love animals. Since I was rescued from the street myself, I'll have links to organizations that help homeless and abused animals and links to organizations that try to educate humans about the incredible pet overpopulation problem we have in this country. I'll also have pictures of my family and friends, humorous articles and stories and anything else I think to throw in here! I hope you'll stop back by soon!
--Slurpee


Take a look at my family!

Where to adopt an animal in the Washington, DC area

A whole page devoted to ME!

See my sister, the feline superhero, save Washington, D.C.

Skip around the web with my webrings

I support spaying and neutering. Read why.


This is the funniest thing Mommy or I have ever read!

Please sign my guestbook or send me e-mail!

Sign My Guestbook
View My Guestbook

Look at my newest award!!