Greetings from the World's Cutest Cat!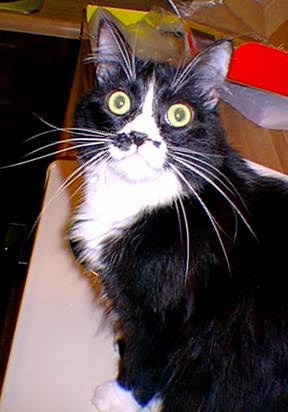 I'm Slurpee, and this is my first Web page. I'm not too computer-literate yet, so my mom is helping me with the page.
You may wonder why a cat as cute as myself has a silly name like Slurpee. It's for two reasons: Mommy found me at a 7-11 store where I was hanging around and being abused by some horrible teenagers, and "Slurpee" was a better name than "Big Gulp"! Also, I love to bathe myself, my humans, and sometimes my brother, LD the dog, if he needs it (and he usually does). Daddy says I'm "the licking-est cat" he's ever seen! Until I hear differently, I'll consider that a compliment.

Thanks for dropping by! I'm anxious to share lots of things with you, so let's get started! Please come back soon, 'cause I'll be changing and adding to this page as often as I can.
Catch you later--
Slurpee
Choose a destination and let's go!

It's not a cage, it's a playhouse!

My home has been invaded! Take a look at the alien.

Come see my family!

Where to adopt an animal in the Washington, DC area

A whole page devoted to ME!

See my sister, the feline superhero, save Washington, D.C.

Skip around the web with my webrings

I support spaying and neutering. Read why.

This is the funniest thing Mommy or I have ever read!


Please sign my guestbook or send me e-mail!

Sign My Guestbook
View My Guestbook

You're visitor number
to Slurpee's page!

Look at what I got from the Tripod Cats Pod!!

BEST
of POD
Yet another nifty award!!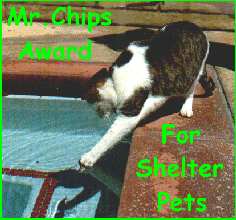 Look at this cool award!!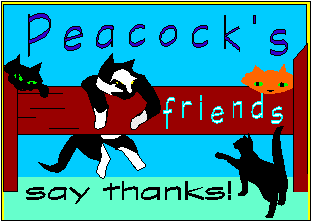 Thank you, Willow, for this award!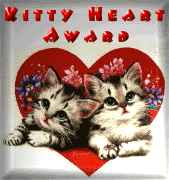 Thanks, Boomer, for this award!!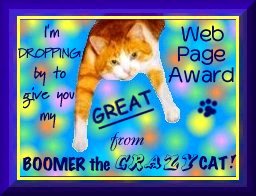 This Spoiled Kitties of the World Wide Web Unite site is owned by Slurpee.

Want to Join?

[ Previous 5 Sites | Previous | Next | Next 5 Sites | Random Site | List Sites ]










Prev Skip It Next 5 Random Next
This site is owned by
Slurpee.
Want to join the Black & White Cat Ring?