I have had many photos taken in my life. Since I am the subject, they are intrinsically beautiful. Mommy, however, is not Annie Liebowitz. Bear with her as she learns to take my picture without giving me glowing green eyes like some kind of otherworldly creature...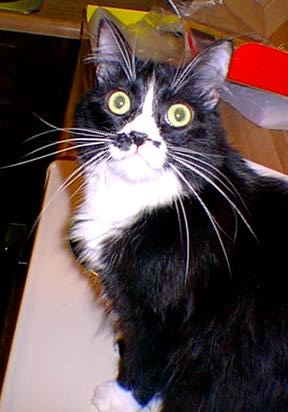 Me, in my normal cute state.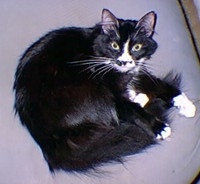 Here I am, being awakened from a nap.
How rude!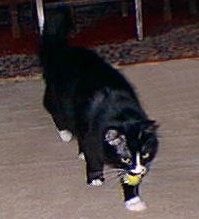 I am a great fan of hunting. My
favorite prey is little fuzzy, glittery balls
that Mommy buys live from the crafts store.
Here, I have captured a particularly ferocious one.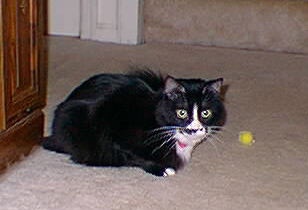 The fuzzy ball has been subdued, but I remain vigilant.



Here I am, guarding my basket of toys, a fuzzy prisoner,
and my scratching toy. There's a ball in the
scratching toy, but I don't get how it works.
I prefer pink string with a human attached to the end!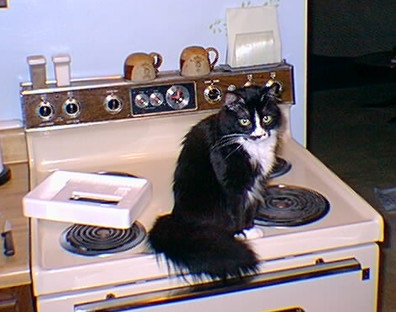 One of my most important duties is that of Kitchen Supervisor.
I have to make sure the humans' food smells and tastes good,
and that it has the correct percentage of cat hair.


I'm sure Mommy will be working on her Slurpee-photographing skills a lot in the coming months.
More and better pictures will be added as they are taken.
In the meantime, check out the "Elegant Tuxedo Cat Award" I received!
Clicking on it or on the Tuxedo Cat Webring will allow you to look at more pictures of the
world's most nattily-dressed felines.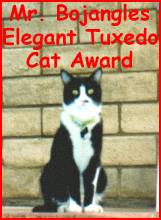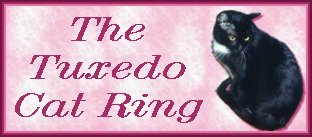 [Next][Prev][Skip Next][Random][Next 5]
This site is owned by
Slurpee.
Want to join the Tuxedo Cat Ring?





Send me mail
Back to Homepage